Mark Cutler 'Dreamland' review at Bill Copeland Music News
You can read the article here.
Mark Cutler has been a fixture in the New England roots music scene for some time now. The Rhode Island native's latest album Dreamland continues his tradition of laying down earthy, soulful music with rich acoustic instrumentation around his mellow, flowing vocal, driving beats, and edgy guitar.
Opening his disc with "Doing Things That We Like To Do," Cutler unfurls his flowing, tender guitar melodies. Within no time, a listener is wrapped up in the dreamy landscape of floating nuances from the acoustic instruments. A sparse amount of notes gather to make a fulsome sound around that assured, easeful vocal glide. Above all else, the tune is quite catchy, and hummable. It feels like a folk-rock number from the early 1970s.
Cutler digs deeper into his roots influences for "Tankful Of Gas," a mellow piece marked by tender slide guitar. Possessing a real front porch in the summer of 1939 vibe, Cutler takes his sweet time finessing his tragic tale of a racing car driver. It's a treat to hear all of the old time guitar picking styles offering notes that strut, jump around, and slide with greasy tenderness around its sturdy fretboard.
Cutler rocks things up a bit on "You're Gonna Need My Help." Here, an electric guitar gets a bit edgier while the percussion pieces slap things out uptempo. Cutler expresses his admonition to a friend with world weary persistence. It's a fun number to follow because its pace and vigor make a listener picture all sorts urgent outcomes if his friend doesn't take his advice. There's a batch of roots things going on at once that make it a thicket of emotive, soulful Americana.
"Circle To A Square" finds Cutler holding his vocal notes a bit after accenting them with a driving persistence. He makes you feel the urgency of his tale. Surrounding his voice is a carefree layering of gritty banjo, thumping low end, pushy drum beats, and a smoldering electric guitar. The tune makes its steady march into destiny as a lead guitar unfurls its burning passion at its own considered pace.
Title track "Dreamland" moseys on up to the listener with a lilting, moody harmonica line that could be friendly or that could be weary. Cutler sings this one with a world worn resignation. He clearly has feelings about his situation but he also clearly feels that those feelings won't power his dreams. That handsome vocal makes you feel what the song is about while putting its own indelible stamp on the song. You know its Cutler when you hear him. You also hear him control every direction that every verse and every instrument is taking. Cutler's easeful control over his songs gives them another layer of that drifty, roots quality you're looking for in this genre.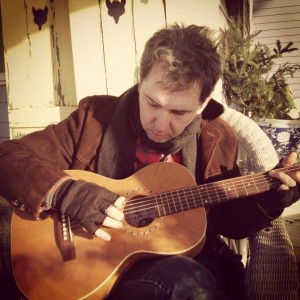 "Too Much Fun" feels like an FM classic rock staple even though it's a new original song. Cutler puts something comfortably familiar in his acoustic guitar chord progression. It invites you in like an old friend waving you into his home,. The melody is alluring and the chorus is hooky as hell. An adept lead guitar line too helps to burn this song into a listener's consciousness with its simmering buzz, its ability to swagger around the beat.
"Soul Flame" switches gears back into down tempo folksy roots flavoring. Cutler's voice flows like honey over a thumpy beat and alongside fulsome harmonica and a hefty acoustic guitar melody. This creates a warm thick vibe that invites one in while offering plenty of nuances within a sparse instrumentation. A listener can follow Cutler's message because he unfurls it at a friendly, respectful pace. His theme is strong enough to explain itself without a lot of verbiage and his rich, fulsome vocal makes it come alive like a fire that's just burst into full bloom.
"Dead Man's Song" continues the traditional Americana roots styles. Cutler's lyrics sound like they were written in an earlier time period in American history. It's as if Cutler had traveled back in time, worked at a 1930s gas station in a sleepy town for a few years, then came back to the present to write about all the human drama that the town slept on. His handsome vocal slides across the back of the imagery he offers. Meanwhile, a greasy slide guitar projects his message over a brittle thatch of peppy acoustic instrumentation. It's that buzz of activity that keeps the ears glued to the song.
A wistful feeling permeates "We Don't Do That Stuff No More." Cutler looks back at his past with mournful respect. Each verse his voice glides through bring his story to vivid life, infusing each with his plaintive timbre. He doesn't just sing to you. He invites you into his world with an unforced, unobtrusive vocal approach. It's like a painting on the wall that draws your attention with all of the details and nuances it offers. The instrumentation around his voice is, as always, plentiful in taste, respect, the right touches in the right places. Each time that greasy slide guitar unleashes another melodic line inside a measure, you feel the personality behind the man playing it and the man who wrote the song.
Closing out his album with "I'll Play For You," Cutler offers the listener one last parting glimpse into his world, a landscape of human souls bruised, wounded, enlightened, and rescued by the power of redemption or damaged or destroyed by the indifferent hand of fate. It's a gritty, realistic world Cutler writes and sings about. The gritty instrumentation around his steadfastly handsome vocal helps deliver that world with soulful, emotive purpose.
Dreamland is certainly another tasty nugget in a line of gems from this Americana roots music singer-songwriter. One can only play his albums over and over until he releases his next offering of timeless roots music and gritty realistic words. This is a songwriter who deeply cares about people from the highways and back roads and dark alleys of American life.